Sevid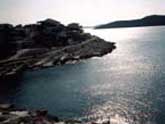 On the coast of the sea, next to the border of the North and South Dalmatia a few hundred years ago families of the fishermans and farmers have built their homes. A place was called Sevid, and for their patron they had St. Vid to whom in the honour they built the church which structure crumblings can be seen even now.
Local inhabitants still have olive-groves and vineyards and catch fish. In every house of autochton you can buy olive-oil, vine, brandy, and when the fishermans comes from the sea, you can even buy fresh fish.
Running away from the town crowd and dinamic life searching for peace many families have built their summer houses in the area around Sevid. These days, it is real little weekend place, but still with disordered nature with plenty beaches and clearly blue sea. In the quietness of the summer morning you can hear sea-gulls who are welcoming the fishermans from the sea with their noises. In the evening hours sitting on the balcony by the sea and with the drop of good vine, the sea is telling you it's story while it is crashing on the rocks.
Links